Home > Stonemasons tools > Tool description
TC masonry chisels, heavy duty design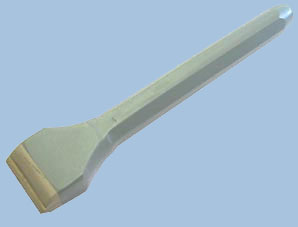 Total length ca. 200mm, with extremely strong TC blade, hammer head only. Designed to withstand heaviest work.

Body of 18mm and 20mm chisels made of octagonal steel rods, 18x18mm and 20x20mm shaft respectively.

Body of 25mm to 40mm chisels made of steel flat bars, and shaft forged to octagonal shape for good grip.


| Blade width mm | Shaft width mm | Price* EUR | |
| --- | --- | --- | --- |
| 18 | 18x18 | 36.70 | |
| 20 | 20x20 | 40.90 | |
| 25 | 20x20 | 51.40 | |
| 30 | 20x20 | 57.60 | |
| 40 | 20x20 | 73.80 | |

* Price does not include shipping. Click "Checkout" on shopping cart to see full order price, including shipping to UK and Europe

We do not charge VAT

Price in EUR will be converted to your preferred currency before payment

Minimum purchase 60 EUR excluded shipping. Payments less that 60 EUR will be refunded





Home > Stonemasons tools > Tool description